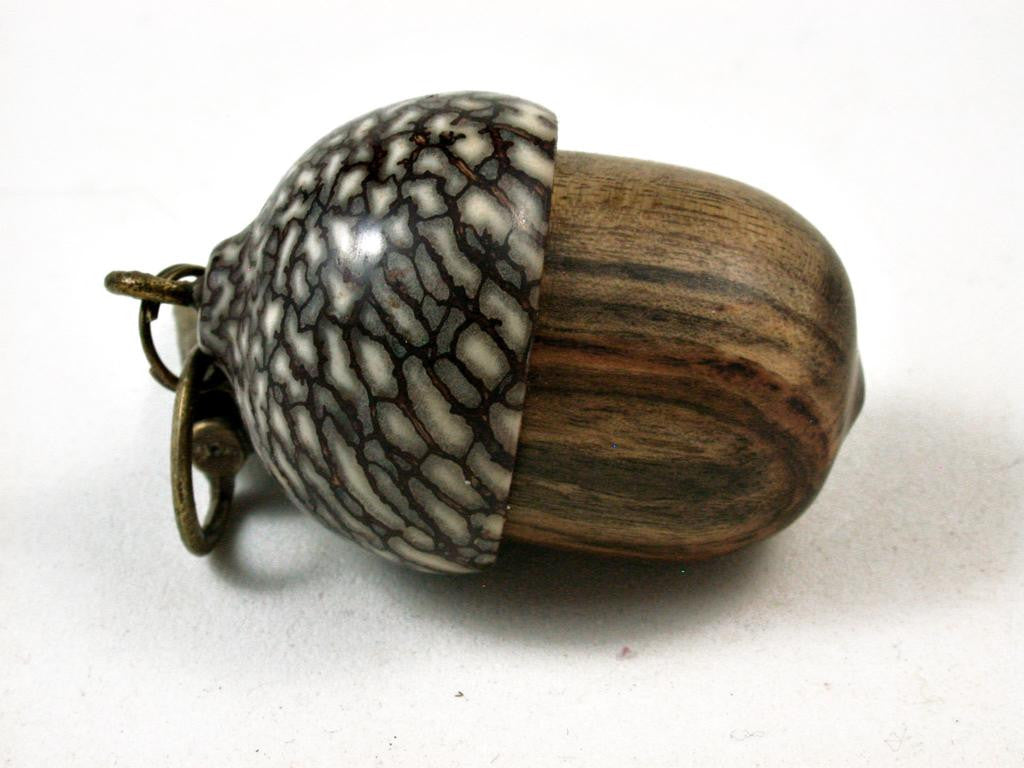 This is a mini acorn box made out of Tulipwood (Dalbergia decipularis) with Betelnut (Areca catechu) cap.  Tulipwood is an exotic wood native to the tropical region of South America, mainly Brazil. It is a hard and heavy wood, with a fine texture. Tulipwood is one of the brighter colored rosewood with irregular streaks of yellow, rose and red or violet on a cream to straw colored background.  This small acorn show off the coloring very well, and looks great with the betelnut cap.  I am going nuts with the betelnut.  Just love it for acorn cap.  There is a natural void in the nut so it's a 50/50 chance that a nut will be thick and solid enough for threading.  Needless to say, I have a lot of betelnut casualties rolling around in my shop after an episode of nut threading.
This pretty acorn has a small secret compartment for daily pills or memorial keepsake. The screw-on cap ensures that your content is secured, yet can be easily accessed. It is equipped with an antique bronze lobster claw for easy attachment to keychain, bag charm, zipper pull...
Dimension (largest diameter x height): 3/4" x 1-5/8"
-- All wood turned items were hand made and/or hand threaded on a lathe. Hardwood threaded inserts were used for woods that do not accept threading well.
-- The item was sanded to 1200 grid for a mirror finish and sealed with a food-safe varnish, if applicable. For hard, fine grained wood with a natural shine, only wax and oil was applied.
-- Each piece offered is a unique item. The design may be repeated but the dimension and wood combination, and or decorative accent will be different
-- Artist signature and catalog number will be inscribed on the item
-- I ship via USPS First Class mail (or Priority Mail if requested). Combined shipping is the highest shipping cost plus $2 for each additional item. Free shipping for 5 or more items purchased at the same time
-
Listed via Shopseen